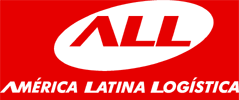 ALL Mesopotámica
Freight
Containers, grain, aggregates, forest products
Background
In October 1993, Ferrocarril Mesopotámico - General Urquiza began operations under a concession providing for lease of Argentina's Urquiza Railway for 30 years. The Urquiza line operated under the commercial name: ALL Mesopotámica.
ALL Mesopotámica is a single-track standard gauge railway which extends north from the city of Buenos Aires to the northeastern cities of Posadas and Corrientes. ALL Meso connected directly with the Paraguayan and Uruguayan standard gauge rail networks and also linked with the Brazilian meter gauge network.
Until its re-nationalization on June 4, 2013, ALL Mesopotámica was owned by América Latina Logística (the Sao Paulo-based owner of Brazil's Ferrovia Sul Atlantico), RDC and the Argentine government.