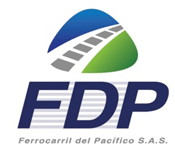 Ferrocarril del Pacífico
Freight
Imports: steel, grain, containers
Domestic: cement
Exports: sugar
Background
In November 1998, the Colombian Government concessioned the Pacific Railroad, operating privately in 1999 as Tren de Occidente, and in 2008 as Ferrocarril del Oeste (FDO) until operations were suspended in November 2011.
In July 2012, Colombia Rail Investors Corp. was formed as a joint venture between RDC and Colombian/Israeli investor group Mariverdo to rehabilitate and operate the Pacific railway system concessioned to FDO.
Now operating as Ferrocarril del Pacífico (FDP), the railroad is a 196 km (122 mi) single-track narrow gauge (914 mm) corridor between the port of Buenaventura and Palmira, just north of Cali.
Long-term goals include extending the network an additional 300 km (186 mi) to La Felisa, conversion from narrow gauge to North American standard gauge (1,435 mm), and connection with the Atlantic network at Medellin.
On August 2, 2012 the railroad resumed operations. In September 2013 a majority interest in FDP was purchased by Swiss trading and logistics company Trafigura. Operations are managed by Belgian rail operator Vecturis.