55 bridges (1.8 km)
68 tunnels (10.8 km)
9 zig-zags / switchbacks
Main line extends from the Pacific port of Callao, continuing through the capital city of Lima, to La Oroya where the line splits into two routes:
north to Cerro de Pasco
south to Huancayo
At Km. 172.7 the main line reaches its highest point at Galera, earning the distinction of highest railway in the Americas, 2nd highest in the world:
- 15,681 feet
- 4,782 meters
- 3 miles above sea level
Minerals (zinc, copper, lead), cement, fuel
Background
In July 1999, the government of Peru awarded the privatization of the country's Central Railway to a consortium led by Peruvian entrepreneur Juan Olaechea and RDC for 30 years. Ferrocarril Central Andino (FCCA) was formed to handle train operations and management of the rail system effective September 1999. FCCA is a 305 mi (490 km) single-track standard gauge (1,435 mm) Trans-Andean mountain railroad linking the Pacific port of Callao and the capital city of Lima with Huancayo and Cerro de Pasco. FCCA is recognized as one of the top Railway Engineering Wonders of the World, climbing the Andes with 68 tunnels, 55 bridges, and 9 switchbacks/zig-zags.
Other FCCA investors include Peruvian companies Ferrovías e Infraestructura (Olaechea Group), Minas Buenaventura, ADR Inversiones, and UNACEM (Peru's leading cement producer).
The consortium began operations on September 21, 1999.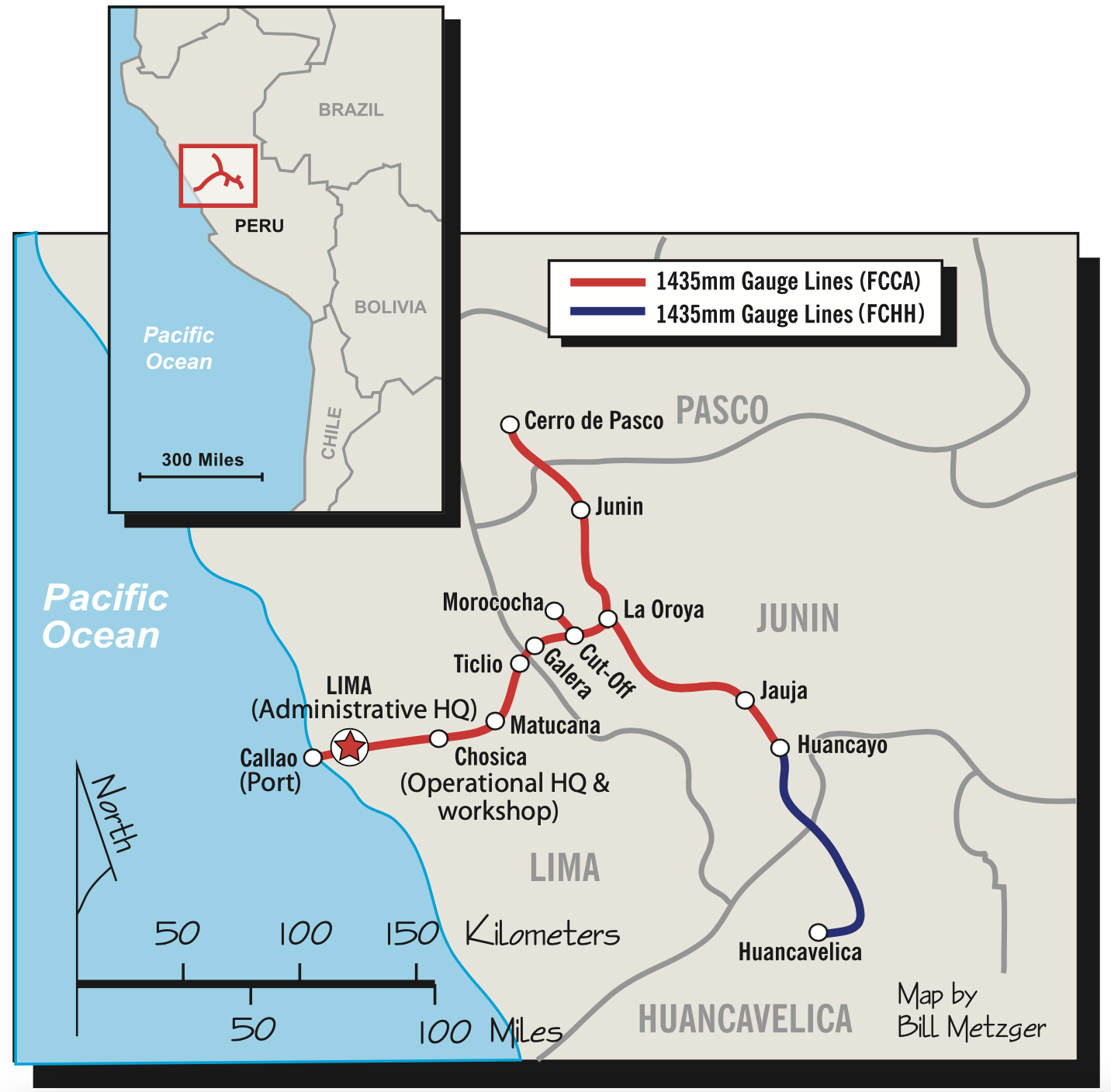 Ferrocarril Central Andino
Ferrocarril Central Andino
Av. Circunvalación del Golf No. 170
Torre del Golf - Edificio More, Oficina No. 302
Surco, Lima 33
Peru
Contact:
Jaime Blanco, General Manager
Email:
ferrocarrilcentral@fcca.com.pe